M'A MELANGE KNIT IS VISCOSE MADE OF RECYCLED PRE-CONSUMER COTTON WASTE
They are waste resulting from combing and spinning cotton. During combing, long fibers are generated, short fibers and finally microscopic fibers, such as powder. These microscopic fibers are boiled to create a cellulosic slurry which is then extruded to produce a cellulose filament.
With this cellulose filament a silky rich and fluid viscose filament is created with complete environmental sustainability.
This is a productive process that respects the environment, with an ever more efficient use of water and energy resources


BENEFITS OF RECYCLED COTTON
- Recycled cotton can find new life in many different low-grade products such as insulation, mop heads, rags, and stuffing.

- The process of recycling can divert many products from landfills. According to the Council for Textile Recycling, annual textile waste is estimated to equal 25 billion pounds.

- The amount of energy, water, and dye use is reduced from using a product that has already been processed. The savings are achieved through offsetting the production of new materials. Since recycled cotton yarns most commonly are sourced from pre-consumer textile scraps that are sorted by color, the yarns are already dyed.

- The CO2 and fossil fuel emission savings can be partially offset by using existing materials. However, the collection, processing, and shipping of cotton scraps or clothing can reduce or neutralize some of these savings.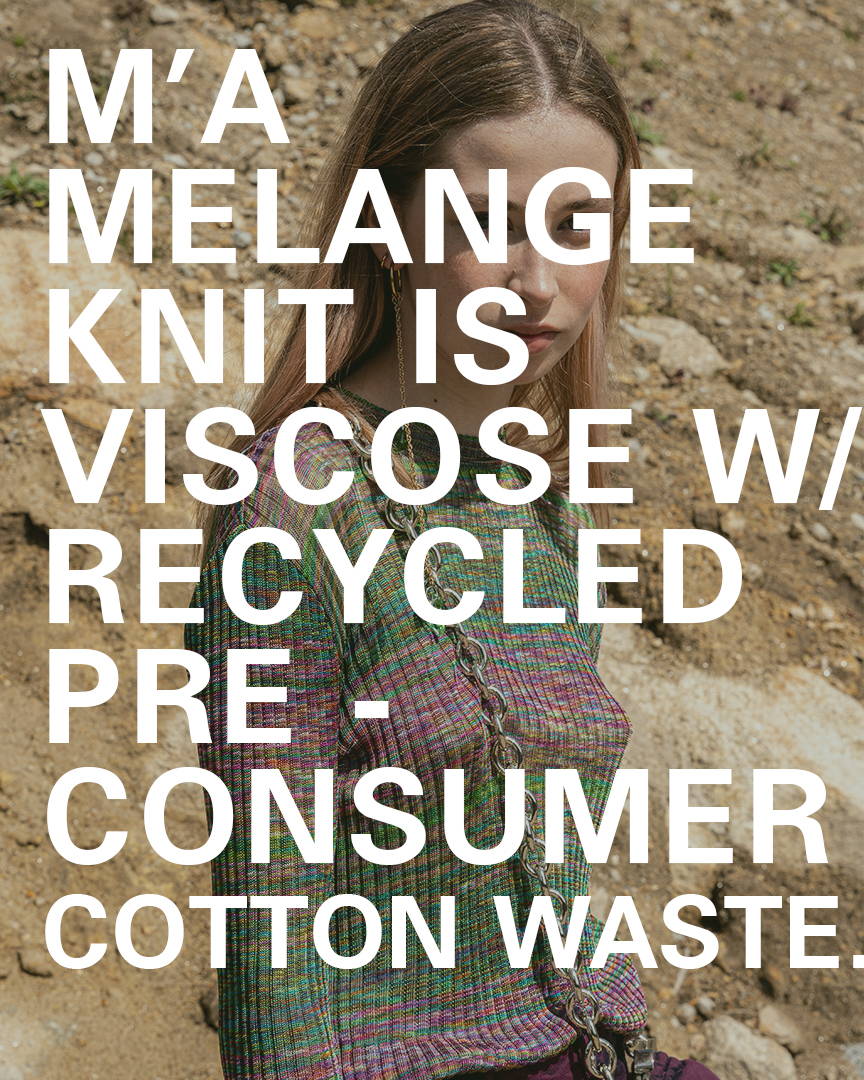 SIGN UP TO RECEIVE NEWS NEWS ABOUT M'A AND GET 10% OFF YOUR FIRST ORDER.
By signing up I consent to receiving the M'A newsletter which includes: exclusive offers, new releases, events and much more. I acknowledge that I can unsubscribe at any time using the link at the bottom of the emails. Read our privacy policy here.
SIGN UP TO RECEIVE NEWS NEWS ABOUT M'A AND GET 10% OFF YOUR FIRST ORDER.
By signing up I consent to receiving the M'A newsletter which includes: exclusive offers, new releases, events and much more. I acknowledge that I can unsubscribe at any time using the link at the bottom of the emails. Read our privacy policy here.