RETURNS – MARQUES ' ALMEIDA online store
Changed your mind? We're sorry the pieces were not right for you!
You can return your order online within 14 days (count receipt data). If you received items from the same order in multiple installments, the 14-day return period begins on the day you received the last installment.
We only accept returns that are in a new, unused and in saleable condition with all tags attached. We won't accept any worn or marked goods that are returned to us.
Please use the same carrier that made your return. Please note that you will not be charged for the cost of shipping your return and shipping to the same carrier that delivers what is delivered and follow the return instructions below.

Returns Process
1. Please email onlineshop@marquesalmeida.com to let us know you'd like tomake a return. We cannot accept a return without first being notified. Ensure you keep and provide us with your tracking number, so we can monitor the return.
2. Fill this form with the reasons for the return, enter it in the box and close it. The return form and the return label must be sent with your original order.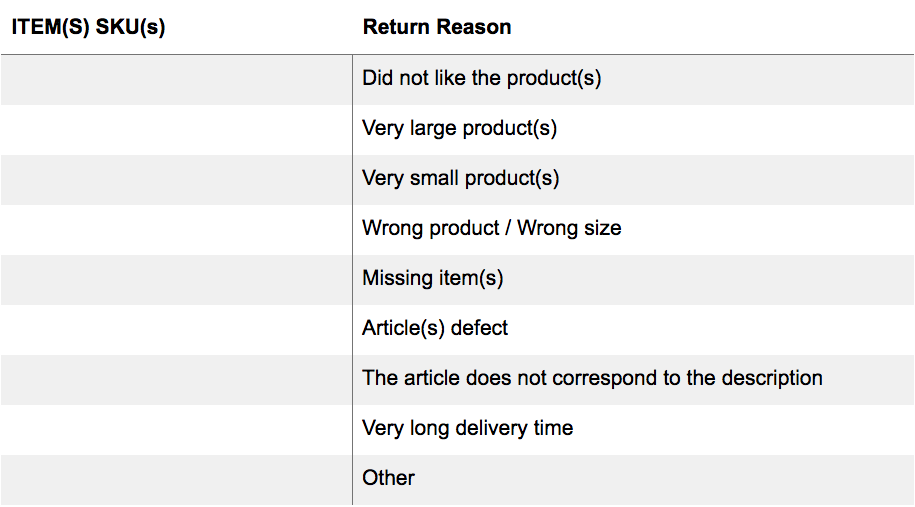 3. Attach the prepaid tag over the original order tag and keep the order tracking number on the return label.
4. Leave a parcel in your carrier quantity to the point: UPSYou can also request that the order be collected by the carrier using a fee. Visit the UPS website for more information and to schedule a capture.

Returns conditions
To consult the rules and restrictions applicable to returns, check our return conditions page on our website.For other information please contact us on onlineshop@marqueslameida.com.