RETURNS – MARQUES ' ALMEIDA online store
Changed your mind? We're sorry the pieces were not right for you!
You can return your order online within 14 days (count receipt data). If you received items from the same order in multipleinstalments, the 14-day return period begins on the day you received thelast instalment.
We only accept returns that are in a new, unused and in saleablecondition with all tags attached. We won't accept any worn or markedgoods that are returned to us.
Returns Process
Please email onlineshop@marquesalmeida.com to let us know you'd like to make a return. We cannot accept a return without first being notified.

Fill out the returns form to let us know the reason for return andplace this completed form inside the parcel with the item you'd like toreturn.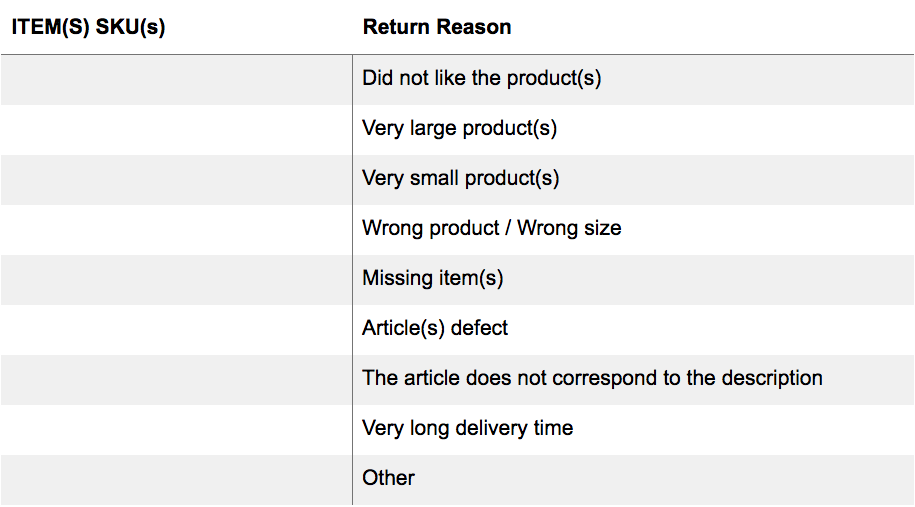 We will schedule to collect product(s) you want to return, at the delivery address to our Production office:
MARQUES ALMEIDA ECOMM RETURNS
Rua Bairro Avelino do Monte Nr 155
4490-016 A Ver-o-Mar
Portugal


Please ensure the package is returned within the 14 day returnperiod. Insured the correct delivery service procedures, so that you canbe sure that it'll be delivered to our Office.


Once we receive the returned item, our team will check for wear andtear and that the item is in new, unused and saleable condition. We willemail you and aim to refund you within 7 days into the original accountthat you paid with. Please note that neither the original deliverycharges, nor any international customs duties and sales taxes arerefundable.
Returns conditions
To consult the rules and restrictions applicable to returns, check our return conditions page on our website.